Covid-19 Information
EECD School Sports and Extracurricular Activities - October 22, 2021
EECD Healthy and Safe Schools 2021-2022

2021-2022 NBIAA COVID restrictions in place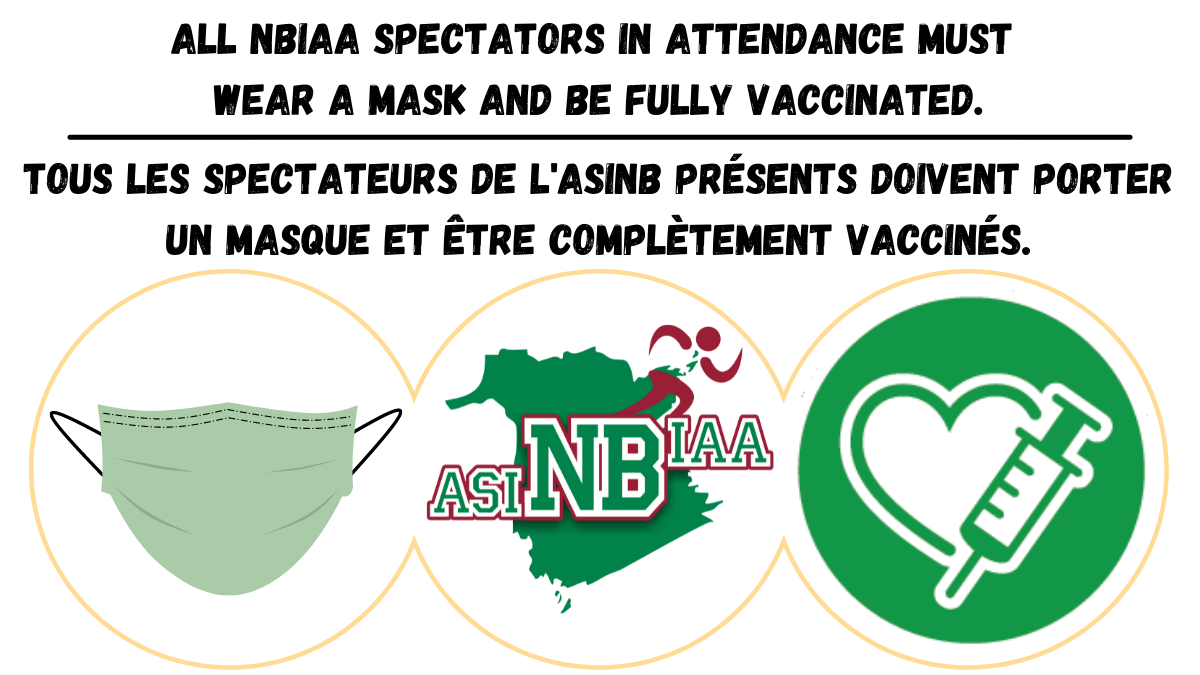 Vaccines
All coaches & officials must be fully vaccinated or be school or school district GNB employees undergoing regular sentinel testing and masking. Students who are fully vaccinated can participate in NBIAA activities and are permitted to participate as soon as they receive their second vaccine. Students born between July 1st to Dec 31st, 2009 would need to have their 1st vaccine by October 2nd to continue participating and will have until October 31st to receive their 2nd vaccine. Proof of vaccination for coaches and student must be shown to school administration or delegate. |

Masks
All participants are required to wear a mask while indoors and recommended for outdoors (required on the bench & during huddles). Masks are not required by individuals who are participating in NBIAA activities.

Travel
Restrictions on travel for sport and extracurricular activities are being lifted as of Friday, October 22, 2021. Teams and extracurricular groups will be permitted to travel within New Brunswick. This includes travel in and out of circuit breaker communities under the Mandatory Order.
Out of province travel or games against out of province teams will not be permitted at this time.

Handshakes
No unnecessary physical contact with opponents pre or post competitions. Both teams can stand facing the opposing team to show sportsmanship after each match/game. (IE: soccer & field hockey – bottom of half circle; baseball & softball – 1st & 3rd base lines; football – 40 yard lines; hockey – blue lines, basketball – foul lines; volleyball - attack lines; rugby – 10m lines).

Spectators will have access to facilities outside of school buildings, such as outdoor sports fields and facilities. Entrances must be monitored to ensure spectators for both indoor and outdoor events have received both doses of the COVID-19 vaccine (proof of vaccination and ID required). Masking and physical distancing will be required at ALL times.

Parent and/or community volunteers will be essential to support schools in event supervision. If schools are not able to secure such support, schools and school districts may individually choose to not allow spectators. School principals have the authority to prohibit spectators at future events if spectators are uncooperative and not respecting guidelines.

Schools and school districts will be asked to develop plans to outline how they will operationalize the vaccination, masking and physical distancing requirements for spectators to attend sports or extracurricular activities within school buildings effective October 29, 2021.

Contact tracing must occur for indoor activities and encouraged at outdoor events if possible.

Process for school closures, games scheduled, Regionals and Provincials.
If a school is closed due to COVID contact tracing, no NBIAA activities can be held for that school and all practices/games would be cancelled for that day and league games rescheduled. Depending on when cancellations take place by school teams, some regional or provincial games may unfortunately have to be forfeited.
2020-2021 COVID Information
NBIAA Risk Mitigation Form C-4
NBIAA Return to Play Plan for the 2020-2021 season. (Updated: 4-9-2021)
NBIAA Memo on Return to School Sports for the 2020-2021 season (8-25-2020).
EECD Return to School: Directions for School Districts and Schools
EECD Alert Level: Orange - Changes in Directives (10-15-2020)
Tourism, Heritage & Culture – Sport & Recreation Branch
New Brunswick's Path to Green - Guidance for Recreation and Sport - 6-21-2021
Frequently Asked Questions - 5-10-2021
Safer Participation in Sports
Risk Mitigation for Sporting Events
Risk Mitigation for Festivals and Events
New Brunswick Coronovirus webpage
General Information
Recovery Level Comparison
Symptoms, screening and testing
How to Self-Monitor
Isolating
How to Self-Isolate
Physical distancing
Masks
Hygiene, cleaning and disinfecting
Travel
Public Health Recovery Phases
Current publich health alert level
Office of the Chief Medical Officer of Health (Public Health)
Provincial Sport Organzation Links (Return to Play Plans):
Athletics New Brunswick
Badminton New Brunswick
Baseball New Brunswick
Basketball New Brunswick
Cheer New Brunswick
Field Hockey Canada
Football New Brunswick
Golf New Brunswick
Hockey New Brunswick
Rugby New Brunswick
Soccer New Brunswick
Softball New Brunswick
Swim New Brunswick
Volleyball New Brunswick
Wrestling New Brunswick